BREAKING: Threat of Oroville spillway collapse prompts evacuation of Marysville, Yuba, Butte and Sutter counties

Read more here: http://www.sacbee.com/news/state/cal...#storylink=cpy


A nightmare traffic jam developed as thousands of residents fled from Marysville Sunday night Tony Bizjak - tbizjak@sacbee.com

By Ryan Sabalow and Sam Stanton

rsabalow@sacbee.com

Chico evacuation center is full; additional shelter open at Neighborhood Church

Butte County announced at 7:40 p.m. that the Silver Dollar Fairgrounds evacuation center is full. Another shelter is available at the Neighborhood Church in Chico, 2801 Notre Dame Blvd.

Sacramento hotels filling with evacuees

Evacuees are reserving hotel rooms along Hwy. 99 and Interstate 5 in Sacramento near the airport. The Homewood Suites by Hilton started getting calls around 6 p.m., said Front Desk Agent Gao Hang. Twenty reservations were made within the hour in back-to-back phone calls.

"They didn't care about the price at all because they just need a place to go," she said. "It's not just us."

Two neighboring hotels are filling up as well, she said. The Homewood Suites is about 75 percent reserved so far.

Lake levels down, but risk remains

7:15 p.m.

Oroville Lake depths are decreasing rapidly as officials release a huge amount of water from its main spillway.


Lake levels have fallen about one-half a foot in the last two hours and stand at 901.35 feet, about four-tenths of a foot above the level where water flows through the emergency spillway, state figures show.

At that pace, water should stop spilling over the emergency spillway within several hours, giving officials a chance to more fully assess erosion.

Falling depths do not mean the areas below the dam are safe. The emergency spillway is essentially part of the dam and the concern is that it will fail, something that could happen even if water stops flowing over its top.

Oroville dam emergency spillway


Oroville Dam inundation area
The Sacramento Bee

Evacuations are widespread

More than 160,000 people in evacuation area

More than 162,000 residents in Butte, Sutter and Yuba counties were affected by Sunday night's evacuation orders, census figures show.

Butte sheriff: Situation improving

State Department of Water Resources told Butte County Sheriff Kony Honea shortly after 6 p.m. that "the erosion that caused all this concern was not advancing as rapidly as they thought."

"That's a very good thing," he said.

The Department of Water Resources released a video shot by a drone over the Oroville Dam. Water is seen running over the emergency spillway as well as the main spillway.
Department of Water Resources
There is a plan currently in place which would hopefully plug that hole, Honea said, including using helicopters dropping bags of rock into the crevasse to prevent any further erosion.

He said two inches of water is still coming over the dam, which "is significantly down" from earlier flows.

"That has helped reduce the level of the lake," he said. "It's hopefully going to reduce the pressure on that alternative, emergency spillway and stabilize the situation so we can find a repair and hopefully prevent it from complete failure."

Meanwhile, officials say they've mobilized swift-water rescue teams to be ready should they need to rescue people in floodwaters below the dam.

Horse boarding, RV space offered

Sacramento businessman and former congressman Doug Ose is offering to help board horses for people affected by the evacuation.

"Gibson Ranch in northern Sacto County can accommodate 25 horses and RVs/campers/tents 916-806-3110," Ose tweeted.

Residents scared

Some evacuees in Marysville say their mood is bordering on panic.

Erin English of Linda said she got a robo-call a few minutes ago telling her to evacuate and get to higher ground.

She immediately called 911 and dispatchers there at first told her to go to Chico, then changed their mind saying that she might not make it there before water came through.

Instead they told her to go to the Colusa Casino.

She was getting gas in South Marysville with her husband and two children and her dogs. They didn't have time, she said, to grab anything from their home.

"I'm scared to death. I've never been through anything like this before," she said. "I pray for the safety of everybody here."

Kevin Carroll of Marysville said he's dubious about the evacuation order, but he is obeying.

He lives on the banks of the Feather River and says the river is not high and could handle a lot more water.

Nevertheless he said the evacuation order is mandatory so he and his wife are gathering up some clothes and the dogs and heading out.

"My wife said go," he said. "The river is right on our back door."

He doesn't expect Marysville to flood though.

"I'm not saying it won't," he said. "There's a lot of room in that river right now.

"It can save lives or be a waste of time," he said. "I hope for the best for the evacuees. Be safe

Concerned citizens in Marysville, California are not waiting around to see what happens with the Oroville Dam spillway, but are gathering their families within minutes, loading up the car and flooding local gas stations as the prepare to leave town.
Tony Bizjak - The Sacramento Bee
Expert says spillway failure could be catastrophic

6:26 p.m.

Nicholas Sitar, the Edward G. Cahill and John R. Cahill Professor of Civil Engineering at UC Berkeley, said losing 30 feet from the top of the emergency spillway could be catastrophic.

"You look at 30 feet times the area of the reservoir," he said. "That is how much water is going to come out. That is a huge volume of water."

He said the Department of Water Resources is "dumping as much water as the river could handle."

He said, "All that you do is watch it – whatever expert you talk to, all you can do is hope for the best."

Evacuation expands

6:15 p.m.

Caltrans tweeted that the evacuation for Yuba, Sutter and Butte counties includes Hallwood, Marysville, Olivehurst/Linda, Plumas Lake, Gridley, Live Oak and Yuba City due to potential failure of Oroville Dam spillway.

Oroville and other area residents streaming out of town have created a large traffic jam at Highway 99 and Bogue Road, where many are fueling their vehicles and heading for safety.

Jessica Robertson, 28, a Yuba City resident, was among the throngs Sunday night filling her gas tank after receiving the word to get out.

"I'm fine, but I'm a little irritated with the traffic," she said. "I hope everyone stays safe. They're saying everything's going to be fine, but that doesn't seem to be the case."

Michelle Grandinetti and her family quickly left their home off Oroville Quincy Highway and tried to get on Hwy. 70 to head for a family member's home in Elk Grove. Grandinetti described a slow-going, frantic scene.

"We took enough clothes for three days, our children, seven total that are still with us, our two dogs and food for them!," Grandinetti wrote in a Facebook message to The Bee. "We just moved here a few months ago and haven't ever had to deal with this! Everyone is leaving! All the stores are closed! Just got on the freeway and the river is only feet away!"

Effect on Sacramento?

Sacramento emergency officials are monitoring impact of Oroville Dam emergency

Sacramento County emergency services officials say they are assessing what, if any, impact the Oroville Dam situation may have on Sacamento.

"We are aware of the situation in Oroville and will continue to monitor for any impacts it may have on Sacramento County," authorities said in a tweet.

The worst case scenario

There is no map showing exactly what will happen if the emergency spillway collapses tonight. Officials only have a map showing a failure of the dam. That worst case scenario is useful in that it shows where water goes and how fast it gets there.

Water would get to the town of Oroville within an hour.

If Oroville Dam were to suffer a massive breach, water would get to the town of Oroville within an hour, according to GIS maps maintained by CalFire.

Within two hours, the small town of Briggs would be affected. In three hours, Gridley would be hit. Water would reach Live Oak in five hours..

It would take eight to 12 hours for the water to get to Marysville and Yuba City.

If the dam completely failed, flood depths could reach more than 100 feet in Oroville and up to 10 feet in Yuba City.

The CalFire maps represent a catastrophic breach and are not necessarily indicative of what could happen tonight.



Oroville dam inundation area


Oroville Dam inundation area
Speed of flooding
speed of flooding
Source: CalFire

The Sacramento Bee

Heavy traffic amid evacuation

5:59 p.m.

Aerial photos show traffic backed up along Highway 70 as people from Oroville try to escape to the north.

Flows boosted to try to avoid collapse

5:52 p.m.

Releases through the main spillway at Oroville Dam have been boosted to 100,000 cubic feet per second from 55,000 cfs in hopes of easing pressure on the emergency spillway before a failure occurs, officials said Sunday night.

Kevin Dossey, a Department of Water Resources engineer and spokesman said "it might help" to alleviate the pressure.

So far, Dossey said, the emergency spillway's concrete lip at the top has not crumbled, although the hillside had "eroded to within several feet" of the big concrete structure.

Marysville and Yuba County ordered evacuated; officials unsure how Sacramento could be hit

Marysville, Yuba County ordered to evacuate

5:42 p.m.

Marysville police say the city and Yuba County are under mandatory evacuation orders because of the feared collapse of the emergency spillway at Lake Oroville Dam. Yolo County officials said in a tweet that they do not expect any impact.

Witnesses reported a heavy police presence in the city.

"The hazardous situation concerning the Oroville Dam auxiliary spillway is NOT expected to impact Yolo County," the county said.

Cal OES spokesman Brad Alexander said officials were activating the state emergency operations center and could not immediately address how waterlogged Sacramento County might be affected.

"I can't answer that right now," Alexander said.

'It's uncontrolled'

5:30 p.m.

Fearing a gush from Lake Oroville if the emergency spillway collapses, officials are releasing as much as 100,000 cubic feet per second from the main, heavily damaged spillway in a frantic effort to drain the lake below where it spills out the emergency structure when the lake reaches maximum capacity, said Kevin Dossey, an engineer and Department of Water Resources spokesman.

The levee-line downstream channels in the Feather River could hold more than 150,000 cubic feet per second, said Maury Roos, a DWR hydrologist, but he said there's a possibility that a levee could breach from the pressure.

Roos said that below where the Feather River merges with the Yuba River, levees are rated for a capacity of around 300,000 cfs.

When asked how much water could be released should the spillway collapse, DWR spokesman Chris Orrock said, "It's uncontrolled. It's uncontrolled."

Dossey said the emergency spillway was rated to handle 250,000 cubic feet per second, but it began to show weakness Sunday at a small fraction of that. Flows through the spillway peaked at 12,600 cfs at 1 a.m. Sunday and were down to 8,000 cfs by midday.

Evacuation center at Silver Dollar Fairgrounds

5:15 p.m.

An evacuation center has been established for Oroville residents at the Silver Dollar Fairgrounds in Chico, according to the National Weather Service. The address is 2357 Fair St.

An evacuation order prompted by the erosion of the emergency spillway at Oroville Dam produced lines of vehicles on Bogue Road at Highway 99, coming out of Yuba City.
Andy Furillo - The Sacramento Bee
Butte County sheriff: "This is NOT A Drill."

5 p.m.

The Butte County Sheriff' Office released the following statement on Facebook:

This is an evacuation order.

Immediate evacuation from the low levels of Oroville and areas downstream is ordered.

A hazardous situation is developing with the Oroville Dam auxiliary spillway. Operation of the auxiliary spillway has lead to severe erosion that could lead to a failure of the structure. Failure of the auxiliary spillway structure will result in an uncontrolled release of flood waters from Lake Oroville. In response to this developing situation, DWR is increasing water releases to 100,000 cubic feet per second.

Immediate evacuation from the low levels of Oroville and areas downstream is ordered.

This in NOT A Drill. This in NOT A Drill. This in NOT A Drill.

Chris Orrock, a spokesman for the Department of Water Resources, told The Bee the failure happened as the bottom of the emergency spillway began to erode.

"It happened quickly," he said.

Sutter County also put out an alert on Facebook:

We have received information about the potential for increased flows in the Feather River of as much as 100,000 cubic feet per second. We are gathering as much information as possible and will be providing additional information as soon as it is verified.

Workers take to air to prep electrical towers near Oroville Dam as emergency spillway is activated

Water continues to rush down Oroville spillway on Friday
Neighbors in Elmhurst neighborhood oppose real estate agent's plan to turn home into commercial office

Streams of cars seen fleeing Oroville area

Sacramento Bee writer Dale Kasler seems to be the only car racing toward Oroville, as streams of cars are seen fleeing the Oroville area.
Dale Kasler - The Sacramento Bee
Officials warn of "imminent failure" at Oroville Dam's emergency spillway

4:45 p.m.

Officials are warning those living downstream of Lake Oroville's dam to evacuate because of a risk that the dam's emergency spillway could collapse.

"They have what they expect to be an imminent failure of the axillary spillway," said Mike Smith, a spokesman for the California Department of Forestry and Fire Protection. "What they're expecting is as much as 30 vertical feet of the top of the spillway could fail and could fail within one to two hours. We don't know how much water that means, but we do know that's potentially 30 feet of depth of Lake Oroville."

The Department of Water Resources, which operates the dam, said in a 4:42 p.m. Twitter post that the emergency spillway could fail within the next hour.

http://www.sacbee.com/news/state/cal...132332499.html
Emergency: California's Oroville Dam Spillway Near Failure, Evacuations Ordered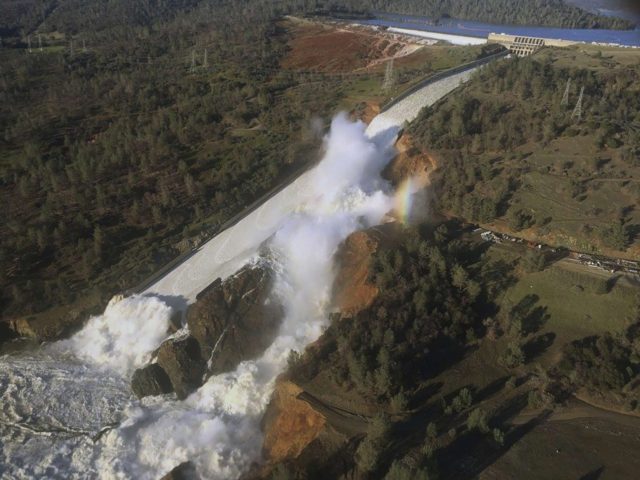 William Croyle / CA DWP / Associated Press
by
Joel B. Pollak
12 Feb 2017
111
SIGN UP FOR OUR NEWSLETTER
The California Department of Water Resources issued a sudden evacuation order shortly before 5 p.m. Sunday for residents near the Oroville Dam in northern California,
warning that the dam's emergency spillway would fail in the next 60 minutes.
The Oroville Dam is the highest in the nation.
An emergency alert issued on Facebook stated:
EMERGENCY EVACUATION ORDER ISSUED: Officials are anticipating a failure of the Auxiliary Spillway at Oroville Dam within the next 60 minutes. Residents of Oroville should evacuate in a northward direction, toward Chico. Other cities should follow the orders of their local law enforcement.
The emergency spillway, which is unpaved, was activated on Saturday morning to relieve the flow down the dam's normal spillway, where a major hole appeared in recent days and began to widen. The height of the lake, once drained by drought and now swollen by recent rains and snow melt, had reached 901 feet above sea level when the emergency spillway was opened.
As Breitbart News reported in continuing coverage of the crisis, officials initially
assured the public
that evacuations would not be necessary, because the damage to the normal spillway appeared limited. They repeated those assurances on Saturday as the emergency spillway was
used for the first time
since the dam's construction in 1968.
Now, however, local ABC News affiliate KRCR
reports
that state officials warn the emergency spillway could suffer a structural failure. It is not clear whether that would lead to a structural failure of the dam itself, which would be a major ecological and economic disaster.
The
Sacramento Bee
quoted California Department of Forestry and Fire Protection spokesperson Mike Smith: "What they're expecting is as much as 30 vertical feet of the top of the spillway could fail and could fail within one to two hours. We don't know how much water that means, but we do know that's potentially 30 feet of depth of Lake Oroville."
The Feather River flows south into the Sacramento River. Flooding could potentially affect the Sacramento River and surrounding areas.
Joel B. Pollak is Senior Editor-at-Large at Breitbart News. He was named one of the "most influential" people in news media in 2016. His new book,
How Trump Won: The Inside Story of a Revolution
, is available from Regnery. Follow him on Twitter at @joelpollak.

http://www.breitbart.com/california/...pillway-fails/
Thousands Are Evacuating After California's Oroville Dam Spillway Predicted To Fail "In Minutes" - Live Feed
by
Tyler Durden
Feb 12, 2017 8:48 PM
Immediate evacuations have been ordered for residents of the low levels of Oroville and areas downstream, according to officials with the California Department of Water Resources, after torrential rains led to the overflow of Lake Oroville in Northern California for first time in 48-year history,
leading to what is said to be an imminent failure of the dam's spillway
, which according to officials could threaten the dam structure.
Officials said a hazardous situation is developing with the Oroville Dam auxiliary spillway. The operation of the auxiliary spillway has led to severe erosion that could lead to a failure of the auxiliary spillway.
According to Fox 40, officials are anticipating an imminent failure of the auxiliary spillway at Oroville Dam.
"Officials are anticipating a failure of the Auxiliary Spillway at Oroville Dam within the next 60 minutes (5:45 p.m.),"
the California
Department of Water Resources said on Facebook
.
According to a posting by the CDWR, residents should evacuate in a northward
direction, toward Chico. The flash flood warning is in effect until 4:15p.m. Monday.
According to
Fox 40
, failure would result in an uncontrolled release of flood waters from Lake Oroville. The DWR is increasing water released to 100,000 cubic feet per second. Furthermore, use of the auxiliary spillway has lead to severe erosion that could lead to a failure of the structure, causing unprecedented flooding and damage.
Water flows over the emergency spillway at Lake Oroville

Immediate evacuation from the low levels of Oroville and areas downstream have been ordered.
The National Weather Service has issued a flash flood warning for possible dam failure.
Areas affected include Oroville, Palermo, Gridley, Thermalito, South Oroville, Oroville Dam, Oroville East and Wyandotte. An evacuation center for residents has been set up at the Silver Dollar Fairgrounds at 2357 Fair Street in Chico.
As the following choppercam photo shows, thousands of people are scrambling to evacuate the downstream areas.
The full press release is below:

Press Release: Oroville, Calif. – The relatively light flow of water that began washing into Lake Oroville's auxiliary spillway Saturday morning is expected to continue flowing for the next few days. Total releases from the reservoir do not threaten the dam or downstream communities and fall well within the capacity of the Feather River and other downstream channels.

Hampered by serious erosion that opened starting Tuesday on the lower portion of the dam's main spillway, the California Department of Water Resources (DWR) prepared for Lake Oroville to rise to its highest level ever.

The lake exceeded the elevation of 901 feet above sea level shortly after 8 a.m. today, at which point water slowly began to flow over the concrete weir of the auxiliary spillway, down a hillside, and into the Feather River. The auxiliary spillway is operating as intended.

"The flows we're seeing are extremely low compared to the design of the structure," said DWR Acting Director William Croyle. "Based on our current situation, there is no threat." Flows of between 6,000 cubic feet per second (cfs) and 12,000 cfs are expected to flow into the auxiliary spillway for 32 to 58 hours, based on the latest modeling of weather, reservoir inflow and other factors. Those flows will stop once discharge from the lake exceeds inflow.

Flows into the auxiliary spillway are far less than the volume of water washing into the lake from the Feather River watershed. That's because the 16,000-acre surface of the lake acts as a buffer, spreading and attenuating inflow. In order to help manage reservoir levels, DWR operators also are discharging 55,000 cfs from the damaged concrete spillway and expect to continue to do so. Upward erosion on this closely monitored, gated spillway has slowed considerably.

DWR focused Saturday on ways to get the Hyatt Power Plant at Oroville Dam back in operation, because 14,000 cfs can be discharged from the plant when it is operating, which would help with reservoir management. Power generation was halted when the water levels in the channel that leads from the power plant became high enough to compromise operation.

Water levels rose when debris from the eroded concrete spillway piled up in the channel below. The same erosion also threatens the towers that hold the power lines that take electricity from the power plant to the electrical grid; such a connection is needed for the power plant to operate. DWR, Pacific Gas & Electric Company, and other partners are working to safeguard the hydroelectric facility and power lines.

Readers can keep track of live
updates at the following link
. A live feed of the situation in Oroville is available after the jump below courtesy of KCRA.
http://www.zerohedge.com/news/2017-0...d-fail-minutes
Trump Is Suddenly Recognized As The President In CALIFORNIA As Liberal State BEGS For His Help
Ryan Saavedra
Feb 12th, 2017 1:52 pm
344 Comments


California Asks For Trump's Help After Repeated Attacks
After repeatedly attacking and criticizing President Trump, the State of California is officially asking for his help as they have run short of resources in wake of severe weather that has caused significant damage in the state.
From
Fox40
:

Gov. Jerry Brown has asked President Trump to declare a major disaster for California because of damage from January storms.
The letter sent Friday says the relentless series of storms caused flooding, mudslides, evacuations, erosion, power outages and at least eight deaths. Northern California was hardest hit.

Brown says the storm system was so severe and widespread that state and local governments need federal assistance to continue dealing with the problems it created.


Governor Brown has made his disgust for President Trump known in the past as
Breitbart
reports
that back in March of 2016 Governor Brown
said
"If Trump were ever elected, we'd have to build a wall around California to defend ourselves from the rest of this country," which Brown later said was "a joke."
In addition to snarky comments made from Brown, add in
the hateful rhetoric of Maxine Waters
who is calling from Trump's impeachment because in her words, "This is the most outrageous and ridiculous President that this country has ever had." That statement pretty much embodies how most of the politicians in California feel about President Trump.
Also consider Calexit.
There is a growing movement in California to leave the rest of the United States
since the state has become so liberal that it doesn't come even close to where most states are at politically.
Then throw in the ruling of the Ninth Circuit Court (located in CA) this last week which blocked Trump's Travel Ban and put the country at risk and now President Trump has a decision to make.
President Trump will almost certainly provide aide if it is needed in the state as it is the right thing to do but Californians should be careful about viciously attacking the President and then turning around and asking for a handout.
http://www.thegatewaypundit.com/2017...ate-begs-help/
California Governor Jerry Brown Asks President Trump for Help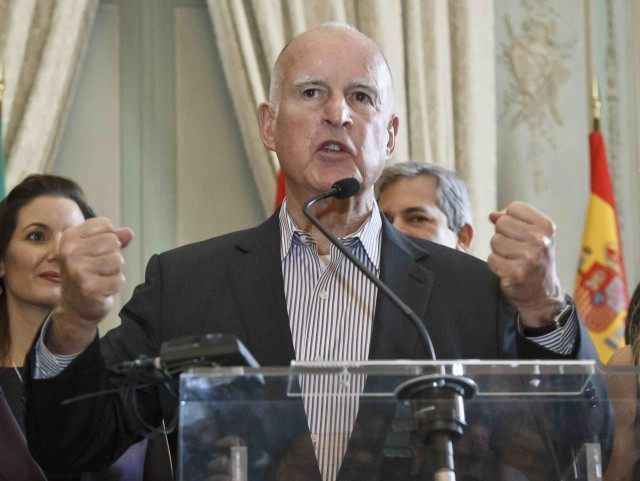 Michel Euler / Associated Press
by
AWR Hawkins
12 Feb 2017
238
On Friday, California Governor Jerry Brown sought federal help from President Trump by asking the Federal Emergency Management Agency (FEMA) to declare "a major disaster" in California in light of the damage done by recent storms.
The
East Bay Times
reports: "Brown formally requested the declaration for the series of storms striking the state between Jan. 3 and Jan. 12." He noted that "heavy rains, winds and snow, particularly in Northern California, left eight people dead and knocked out power to an estimated 1 million Californian homes and businesses."
Brown's request comes as Gov. Brown has challenged the Trump administration on climate change, immigration, Obamacare, and other issues.
Other Democrat officials in California have been open about their refusal to comply with Trump administration orders regarding illegal immigration.
San Francisco's police chief, sheriff, and mayor
all made clear they would not enforce Trump's immigration order, long before the order was taken to court. The San Francisco Police Department went so far as to cut ties with an FBI counter-terrorism task force in order to prevent officers from being involved in
action that targeted illegals
.
And California's highest law enforcement agent, Attorney General Xavier Becerra, has been very open about his determination to fight Trump's policies as part of the larger effort to
retain sanctuary policies
that harbor illegal aliens in the state.
But Gov. Brown would like some federal funds to help out in the short term, so he is asking the Trump administration for help.
Notably, Gov. Brown also used his "State of the State" address earlier this year to
welcome
Trump's commitment to infrastructure spending.
AWR Hawkins is the Second Amendment columnist for Breitbart News and host of Bullets with AWR Hawkins, a Breitbart News podcast. He is also the political analyst for Armed American Radio. Follow him on Twitter: @AWRHawkins. Reach him directly at awrhawkins@breitbart.com.

http://www.breitbart.com/california/...nt-trump-help/